CodeKase Goes Pink with Donation: Kentucky Marketing Company Hopes to Help in Fight Against Breast Cancer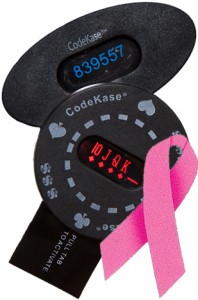 Alberta, Canada, August 25, 2012 –(PR.com)– A Kentucky (US) company known for its ability to intrigue and motivate consumers is using those skills in the fight against breast cancer during the 4th annual Wild Pink Yonder
(WPY) 345-mile horse trail ride in Alberta Canada Aug 11-Sept 2.
Wilkin Marketing donated 500 of its signature CodeKase pieces to Wild Pink Yonder to be used in connection with Welsh's Saddlery in Alberta Canada. CodeKase devices, attached to a mail piece, were shipped with instructions to pull a tab which illuminat
es a code. Consumers then use that code on Welsh's website and receive a discount. For every purchase made, two dollars will be donated to Wild Pink Yonder.
Since 2009, The Wild Pink Yonder Society has donated over $300,000 to the Alberta Cancer Foundation.
Jane Hurl, the non-for-profit organization's founder, and breast cancer survivor hopes that participants will "ride breast cancer into the ground."
The Wild Pink Yonder trail ride is a 23-day horse trek. Along the way, riders make 24 stops in 24 towns, handing out cards with CodeKase and seeking the "Pinkest Little Town in the West."
The winning town will have "everything pink" and will also succeed in raising the most money for the fight against breast cancer.
According to WPY's website, "It's not about the size of the town. It's about the size of the heart in the town."
The pinkest town will earn a free concert and highway signs which will display and commemorate their new status.
Wilkin Marketing creates awareness and brings together consumers and vendors making way for effective communication that increases ROI, intrigue and motivation of consumers.
If you'd like to know more about Wilkin Marketing, please call Dan Sagle at 859-817-0116, or email him at dsagle@codekase.com.